Goodbye hair frustration, hello dream hair!
Full and thick hair in seconds
Discreet packaging
Your order will be packaged completely inconspicuously, so you won't have to answer prying questions or endure gossip from the neighbors.
100% Premium real hair
Whether Asian, Indian, Slavic or European - only hand-picked quality goes on your head here.
15 years of experience
From sufferers for sufferers: as second hair wearers and wigmakers for many years, we know what it takes.
Still unsure?
We will advise you!
You are not sure what exactly suits you? What color is right for you, what size your topper should have and what length is suitable for you?
Then send us some daylight pictures of your hair situation by mail to kontakt@zum-haare-raufen.de - we will then make a recommendation.
The images should be sharp, taken in natural light and not against the light. Your head should be well recognizable - not too far away, but also not too close.
Wig maker with hair loss
When fate becomes a dream job:
I am one of you - at 15 I was diagnosed with androgenetic alopecia, at 21 I ventured into the world of hair replacement. Thankfully, there is nothing left today of the sadness and despair I felt for many years.

After many years with expensive but poor hair replacement, I founded Glückssträhnen - to offer women with hair loss the best possible hair replacement at a fair price. I learned the art of wig weaving in London and use my skills to create absolutely realistic wigs. As a sufferer, I know how important realism is when it comes to hair replacement. No one wants to endure weird looks or questions.

The experience as a sufferer and the skill that is in lucky strands makes us a unique place to go for women with hair loss who are looking for the highest quality.
More about the team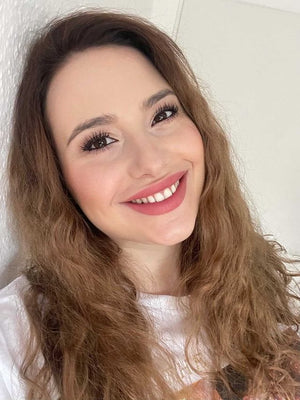 Gelena
"I am very happy to have discovered Glückssträhnen. With the personal and dedicated advice, I was able to purchase this dream topper that is indistinguishable from my natural hair texture. I don't see "hair replacement", I see me. I can only recommend questioning fears or reservations about toppers and wigs, you gain quite a bit."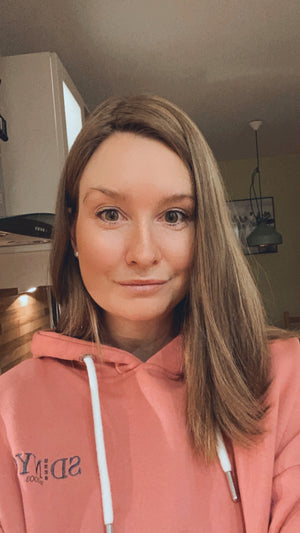 Franzi
"I have had my Glückssträhnen topper "Louisa" for just under half a year now and am very, very happy to have chosen it. Julia's advice and care from the beginning are just great and the hair quality is dreamlike. The clips are very soft and after a few times of wearing, I have not even noticed that I am wearing something on my head, although I tend to have headaches and migraines very quickly. The put-on also works after a little practice in seconds. Nobody around me has noticed that it is not my own hair :-) I can only advise anyone who doubts whether a hairpiece/wig is something for them: Dare, try it out, it gives you soooo much joy of life back!"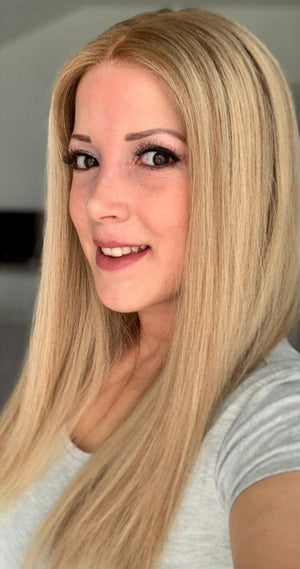 Jennifer
"My Glückssträhnen wig means for me to finally go through everyday life with ease again. Put the hair on in the morning and be ready in 2 minutes. I don't have to worry about my hair, feel secure at all times. So far I have been approached only because of all the compliments on my beautiful hair. I am so happy to have finally found a high-quality and super natural-looking wig. Thank you, Julia!"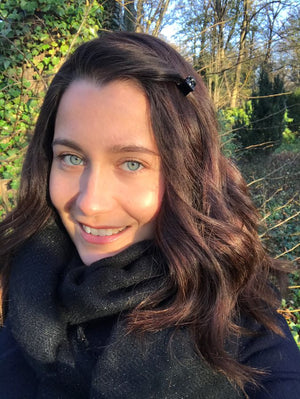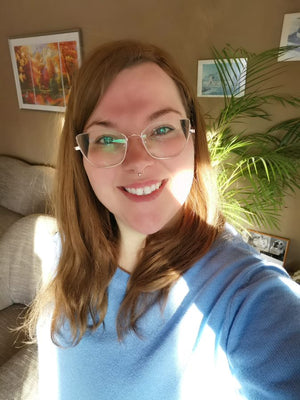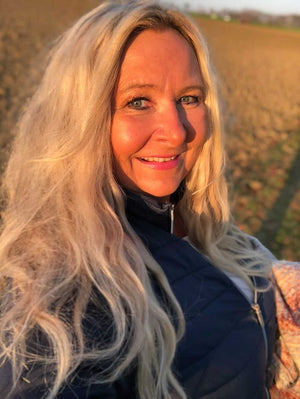 Hairpieces and wigs for women
Hair loss in women is not so rare as it may seem to one as a person affected. About 20% of women in Germany state that they lose hair more frequently. The older the women become, the more frequently hair loss occurs. But even partly very young women can be affected by hair loss - for example, by androgenetic alopecia, changes in hormone balance due to pregnancy or the pill, but also in later years the menopause.
Diseases such as alopecia areata and other autoimmune diseases can lead to the complete loss of all hair on the body, depending on the manifestation.
Hair replacement for women
The topic of hair replacement is unfortunately still shameful in Germany - many women are very ashamed of their hair loss and it shudders them inwardly when they think of hairpieces or wigs. They feel like they are being cheated or think that hair replacements are always obviously recognizable to others. Therefore, they often persist in their suffering and do not even look for a second hair solution. However, there are now hair replacements for women that are no longer recognizable as such by laymen. This includes an absolutely realistic parting area that looks like real scalp, a flat mount that does not look wig-like and, of course, modern color schemes such as ombré, highlights or balayage.
Hairpiece, wig or extensions - what's the difference?
The difference between a hairpiece and a wig is the mount - that is, the part of the hair replacement on which the hair is attached individually or in braids. In the case of a wig, the fitting is larger and encloses the entire head from the forehead to the nape of the neck. Wigs are suitable, for example, for women suffering from Alopecia Areata Totalis or Universalis. Sufferers lose either a large part or all of the hair on their body. But also women who frequently change their hair color, but do not want to burden their own hair, like to resort to wigs.
Overhead hairpieces (also called hair toppers) cover only the top of the head. They are suitable for women whose hair loss occurs especially in this area - that is, light areas and wide parting on the top of the head. If the color is well chosen then the hairpiece blends seamlessly with your own hair and provides volume only where it is needed.
Many women first reach for extensions when their hair becomes thinner. In the case of diffuse hair loss (i.e. hair loss evenly distributed over the entire head), this can make sense. However, if the hair in the top of the head becomes thinner, then there is usually not enough top hair to cover the bondings that connect the extensions to the natural hair. In this case, an upper head hairpiece is the more sensible solution.
What types of hairpieces are there?
The term hairpiece covers many different types of hair replacement. Among them are hair thickeners, which can be tied as a hair tie around the own hair braid. They provide more volume for updos. Furthermore, there are also bangs hairpieces to clip in for women who do not want to cut their own hair.
In essence, however, hairpieces are upper head hairpieces for men and women. These differ greatly in the construction of the monture. While hairpieces for men are often made of foil or tulle and glued to the head, women have more choice here.
The montur can be made of tulle (lace), monofilament, foil or silk. The hair is connected / knotted individually or as a braid (hair sewn onto a string) with the Montur. Depending on the material, the montur can then be glued, attached with bondings or clips to your own hair.
What are hairpieces made of?
The most important component is, of course, the hair. Here there are different options - human hair, synthetic hair (or synthetic hair) or heat-resistant synthetic hair.
Hairpieces made of human hair
Hairpieces made of human hair consist - as the term suggests - of real human hair. The hair can be treated (with minor restrictions) just like your own hair and behave the same way. This makes for a very natural look and plenty of scope for hairstyles, styling and color. With hairpieces made of human hair, it is important to pay attention to what type of hair it is. Not every hair type (i.e. Asian, Indian or European) is suitable for every woman. The hair quality also determines the durability of the hairpiece. Untreated European human hair can last up to 3 years with good care. Indian hair lasts (also with good care) 1-2 years.
Hairpiece made of artificial hair
Hairpieces made of artificial hair consist of artificial fibers, which are brought into the correct, hair-like shape by a complex procedure. Artificial hair retains the hairstyle it was given during the manufacturing process. A curly piece of artificial hair will keep the same shape even after a downpour, and a straight piece of artificial hair will remain smooth even in high humidity. However, normal synthetic hair cannot be styled with straighteners or curling irons. The shortcoming of the lack of flexibility is compensated by the low price - hairpieces made of synthetic hair are usually available from 200 euros. However, the life of these hairpieces is also shorter than that of those made of human hair - as a rule, they are no longer suitable for wearing after a few months.
Hairpiece made of heat-resistant synthetic hair
These so-called HD Fibres (i.e. heat-resistant fibers) are made of plastic, but can be brought into a different shape with low temperatures. If the hairpiece was processed with a straightener or curling iron, the hairstyle will last until the next time it comes into contact with heat. In contrast to human hair, hair made of synthetic hair cannot be easily changed in color. Although highlights or a different colored approach can be "colored" with color pencils, but a hair coloring in the conventional sense is not possible.
Artificial hair or human hair - which is better suited for me?
Whether artificial hair or human hair that is a question of taste and needs. Synthetic hair requires very little care or time for styling. The hairstyle always sits, whether it rains or the sun shines. Artificial hair is also much cheaper than human hair, but has a shorter life. However, synthetic hair is not very flexible in terms of hairstyle and color and often has an unnatural shine. It is mainly suitable for short hairstyles, because the longer the synthetic hair, the faster it tangles and tangles. Women who wear their hair short or only temporarily need hair replacement are well advised with synthetic hair.
Real hair, however, has all the advantages and disadvantages of human hair. It behaves in rain and heat just like your own hair. After a downpour, the curls are gone again and the hair bleaches out after a summer full of sunshine and becomes lighter. However, they can be dyed darker again if needed. Human hair can be styled as usual with straighteners and curling irons - but care should be taken to use high-quality heat protection to preserve the quality of the hair for as long as possible. With hair replacement from high-quality human hair, all hairstyles from short to long can be worn without any problems - the hair does not mat.
Where does the hair for hairpieces and wigs from human hair come from?
Qualitatively high-quality hair is the prerequisite for high-quality hair replacement, which you can enjoy for a long time. Therefore, it is very important to choose the right hair from the right source. The human hair business is very opaque and unregulated. Therefore, you have to search for a very long time to find trustworthy dealers who do not lie about the quality and origin of the hair.
European human hair is of course the best hair for women from Europe. However, since it is extremely rare (because what woman in Europe has long, untreated hair that she would also sell), high prices are charged for it. With the designation "European human hair" much Schindluder is operated. Often, in the end, there is not even what was declared.
The most common hair source for hair replacement is still India. The country has a long tradition of donating hair for religious reasons. Devout women donate their gorgeous hair to temples in their country and they resell it to fund themselves. The hair is then elaborately processed to load as a hairpiece or wig in Europe, America, Canada and the rest of the world.
But Asia is also a major supplier of hair.
Happy strands hairpieces and wigs are made with Asian, Slavic, South American and European hair. It is particularly important to us that the hair is obtained ethically and with the consent of the women.
How do I care for my human hairpiece?
The durability of a human hairpiece stands and falls with the care of the owner. Improper care can ruin even a high-quality hairpiece after only a few washes. For good care, we recommend high-quality products from the hairdresser's supply. Hairpieces and wigs made of human hair should always be washed with shampoos without sulfates and silicone. Silicones can loosen the knots of the hair and thus cause hair loss on the hairpiece. A hairpiece should always be washed when it either feels dry or smells unpleasant. Since the hairpiece is in constant contact with the scalp and thus absorbs grease and sweat, unpleasant odors may occur after a few days or weeks (depending on physical activity and predisposition). If any of these factors occur, the hairpiece or wig should be washed. Since the hair replacement is not naturally supplied with sebum from the scalp, it requires good care to remain soft and supple. Therefore, a conditioner should be applied after each wash. This should be rich and may also contain silicones (especially for hair that has already been treated). After shampooing, the conditioner should be applied liberally to the lengths of the hair. It is important that the conditioner is never applied to the hair. This can loosen the knots of the hair and cause hair loss on the hairpiece or wig. The conditioner should be left on for 30 to 60 minutes and then rinsed thoroughly. Afterwards, the hairpiece should be left to air dry - this is the gentlest method and maintains the quality of the hair.
How do I find a hairpiece in the right color?
Even with online purchases, the hair color of a hairpiece is the most difficult part. If you are unsure which color suits you, feel free to send us daylight pictures of your hair situation - we will then make a recommendation. A digital color consultation is also available - if you're interested, feel free to send us an email at kontakt@zum-haare-raufen.de. Glückssträhnen hairpieces and wigs can also be ordered as custom-made. A custom-made product is not more expensive than a comparable product from the store - but since it is made explicitly for you, it is excluded from exchange.
But even when buying hair replacements in the online store, you take no risk. If you think the hairpiece or a wig could fit you, then just order it. If you don't like it, you can send it back within 14 days after receiving it. Please contact us by mail before and insure the package sufficiently. You can also find our return policy in detail on our website.
What hair density should I order?
The hair density determines how many hairs per square centimeter will be tied to the montur. The higher the density, the more hairs per square centimeter will be attached. The information on hair density varies from provider to provider. For lucky strands hairpieces and wigs, the density for a natural look is 100-110%. This hair density is especially suitable for women who are looking for their first hairpiece or wig. Here a look is desired that does not cause a stir, that simply looks "normal". These women don't want to be targeted for their "unusual hair". They want to look ordinary and not stand out. A low density of 100-110% serves exactly this purpose. Women with hair loss who have already gained experience with hair replacement can also choose a higher density of 120%. However, this is really a "lion's mane" that wants to be tamed. During a personal consultation, we can determine the needs and desires of our customers and recommend a suitable hair density.
What is the cost of a hairpiece?
The cost of a hairpiece or wig is mainly influenced by 4 factors: the length of the hair, the hair color, the fitting size and the hair quality. The longer the hair, the lighter the hair color, and the larger the style, the higher the price of the hair replacement will be. European and South American hair also costs more than Asian hair. This is mainly due to the different availability of hair qualities. Asian hair available in large quantities, other hair qualities are rarer and therefore more expensive. As a rule, the prices for our hairpieces are between 900 and 1,500 euros; our wigs between 1,100-2,000 euros. In any case, it is worthwhile to tell us your own wishes and ask for an individual price.